About the Artist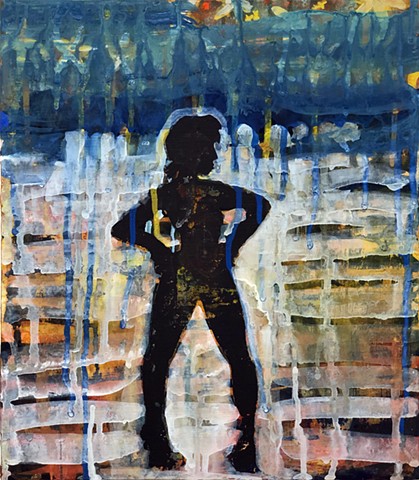 Maryalice Johnston holds a BFA from Ringling College of Art + Design, Sarasota, FL, and an MFA from Pratt Institute, Brooklyn, NY. She has been awarded residencies at the MacDowell Colony, and was honored with a two-year Visual Arts Fellowship at the Fine Arts Work Center in Provincetown. She has received grants from New York Foundation for the Arts, the Central New York Community Arts Council, the Provincetown Community Compact, the Local Massachusetts Cultural Council, and the Main Street Grant, Washington, NC. She was Artist in Residence at the Rome Art and Community Center, Rome, NY, and Artist in Residence for the Provincetown Public Schools. For ten years worked as a Teaching Artist for Arts In Education, a program created and implemented from Lincoln Center in NYC.
In the late 90's Johnston moved to Provincetown, MA and served as the Visual Arts Program Coordinator at the Fine Arts Work Center for eleven years. While living in Provincetown she participated in the The C-Scape Mapping Project, a collaboration of science and art, served on the Local Cultural Council, was a founding and active member of artSTRAND, a Provincetown art gallery owned and run for twelve years by seven Cape Cod based artists, and together with her partner Eric Peters formed the musical group Butter, an experiment in sound, noise and installation. She enjoys collaborating with her long time friend and fellow artist Vicky Tomayko, and together they have created many large installations and environments, as well as sound performances and silkscreen/print projects.
Johnston has shown her work in numerous venues across the US, and has been included in reviews of art publications and periodicals. Her work appears on the cover of My Secret Boat, W. W. Norton & Company, NYC, and is included in Deborah Forman's 2013 publication Contemporary Cape Cod Artists: Images of Land and Sea, Schiffer Publishing. She is honored to be counted in private and public collections to include the National Executive Service Corps, NYC, The Provincetown Art Association and Museum, the World Headquarters Capital Holding Corp., Louisville, KY, and the Arkansas Art Center, Little Rock, AR. Born and raised in Ft. Smith, Arkansas she now lives and maintains her studio in Washington, NC. Please visit maryalicejohnston.net to see more of her work.